Diese Veranstaltung hat bereits stattgefunden.
B the Beat Battle 2023 Internationales Urban Dance Battle in Graz (Austria)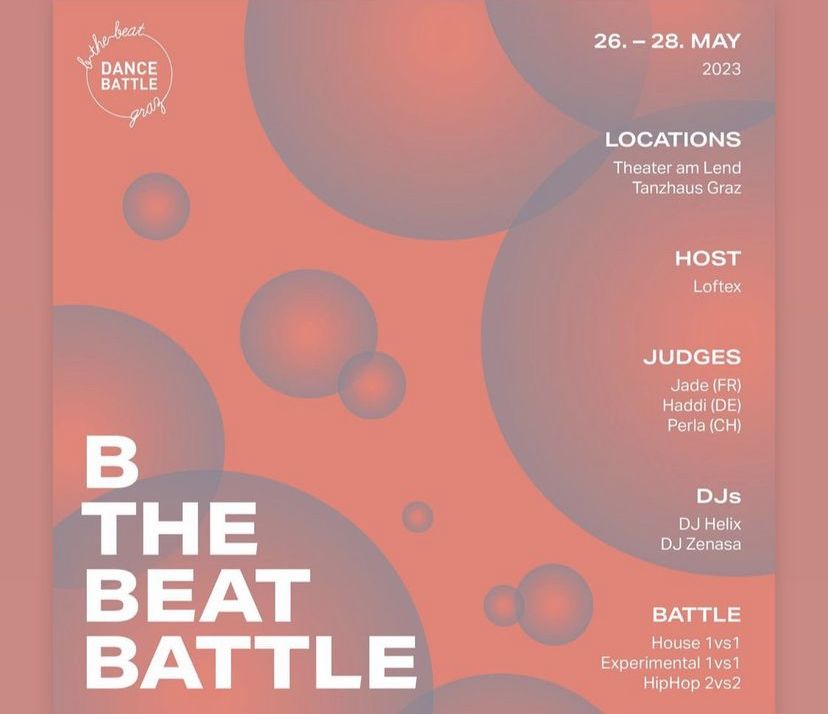 Details zur Veranstaltung
Save the date : 26.-28th of may 2023
• There will be 2 showcases this year!!!
• We want you to stay the whole weekend, so this years edition will be 3 days!
Battle Categories:
– 1vs1 Experimental
– 1vs1 House
– 2vs2 Hip Hop
Friday – Preselection
15:00 registration dancers
Registration: office@lets-move.eu
Saturday – Workshops
11:00-12:30 HIP HOP with Flash Haddi @flashhaddi_off
13:00-14:30 EXPERIMENTAL/ MOVEMENTs with Jade @jade_fehlmann
14:45-15:45 Q&A with all judges
Afterparty
Price:
1 Workshop € 20,-
2 Workshops € 35,-
Payment in cash before the class!
Sunday
11:00-12:30 HOUSE with Perla @perla.perlson
Location: @tanzhausgraz, Lagergasse 57, 8020 Graz
Registration: via insta (bthebeatbattle)- just drop a message!!!
Attention: Perla's Workshop is FREE of charge!
Take the chance and learn from them!!!
If you have any questions, don't hesitate to ask
Entry fee:
– Friday 7€
– Saturday 18€
– Both days 20 €